Well friends, we're in Colorado and Fall has fallen. It seems crazy to think that we left five months ago, even crazier to think that we still have two to go. And so, there is nothing left for us to do but bike on.


It has been strange biking around without Little Beef. I'm quite proud of the little fella for making it 43/48 states. That's no small feat for someone so small.

Ratless we rode through the New Mexico desert, and it was a beauty to balm the loss of our third Musketeer. The first day in the real desert we nearly ran out of water, which of course, makes one immediately more intensely thirsty than ever. We made it to a sketchy little gas station run by a curmudgeon. We bought some precious fluids and rode on into the darkness. That was fun. We were able to use Aunt Donna's party lights on our wheels and made quite the spectacle as we dodged snakes and desert toads by the light of the moon.

Lizzy's friend Tosha's parents have a wonderful little apartment in Santa Fe and had graciously given us permission to stay there for an entire week. We were ecstatic to have such a wonderful place to rest. We rode further into the desert, taking time to stop at some sketchy tourist trap locations before finally setting course for the boonies. (One such tourist trap seemed to have a nice and sneaky-campable plot of trees by a small pond, but after investigation I discovered that the pond was a raw sewage tank. Needless to say, we chose to ride on. Sagacious we may be.)

We did make it to Santa Fe, and though we did not stay a week, we did manage to spend three nights in luxury about 0.7 miles from the town square. It really felt like we had stumbled out of the desert into another county. A country made of fine art, Adobe, and Whole Foods. I spend considerable time at the local Trader Joe's–my absolute favorite grocery store– so that the staff actually began to recognize me… Lizzy and I managed to make a mean vat of spaghetti squash and feed off of it for about two days. Yummmmmmm.


It was very hard to leave the apartment on Saturday morning, but we knew we couldn't stay forever. Hints of the coming winter have started nagging at me and prodding me westward. The roads were damp from a thunderstorm and the air was absolutely fresh and clean as we peddled onward toward Colorado.

We made it out into some of the most beautiful country we have yet seen. I'm pretty sure that I can call it my favorite area of the trip, though that is debatable (Montana is pretty fabulous). We both began snapping innumerable pictures of the drama unfolding around us. Drama is the only way to describe the perfect mix of color, shadow and texture in the desert. We watched the blooming rain chase us across the valleys and rocks and then tickle us with mist. In this fashion, awestruck and drunk on the beauty around us, we stumbled upon an abandoned Soil Conservation Education Ranger Station. Since there were no "no trespassing" signs and we really needed a safe place to stay, we hoisted the bikes over the gate and promptly set up our hammocks on the front porch. We both knew that it was really too cold to be hammocking but fortunately there was a small and sun-warmed, stone, observation building with east facing windows and a wide open door that we figured we'd find a suitable home for the evening. After a dinner of cold beans and a good laugh over Grimm's Fairy Tales, we fell asleep.


The following day was one of more rain sprinkles and threats of winter. We wound our way up and up to about 7,800 feet. The land changed dramatically as well, it seems that we have made it out of the desert (for now) and into the base of the Rockies. We rode to Chama and stopped at a Rip-Off overpriced fruit stand, and then on to the town Visitors Center which boasted free coffee, maps, and wifi. How could we resist? We met some wonderful people there; some former bike tourists, a little woman who rode a horse cross country, and a woman and her daughter who gave us "Tiger Nuts"– a strange Whole Foods tiny tuber. We all discovered that the tree in the lawn was an apple tree and so attacked it. Free apples with strangers. Wonderful.

We rode on through the range and found a BLM type open range area that allowed camping and biking etc. We were supposed to have a permit, but we camped there anyway. It was also a bit rainy. We sat in the grass eating cold refried bean burritos while it rained: the glamour of reality. We fell asleep listening to the rain on the tent. It didn't occur to me until I was awakened by coyotes at midnight that we are back in bear country. Hmm. Probably not the best idea to be eating/parking the food laden bicycles right next to our tent.

I woke up feeling sick and feisty. We knew we had about 30 miles to ride before civilization, but once we crossed the Colorado boarder after riding about ten miles, there was a road sign that claimed Pagosa Springs was 30 miles away. Apparently we rode through some sort of road length warp. We eventually made it into town and I felt like I was going to pass out. The remedy: pancakes. But unfortunately there were no pancake places that were still serving pancakes! So we ended up doing the usual thing and popping into McDonalds for a million hours.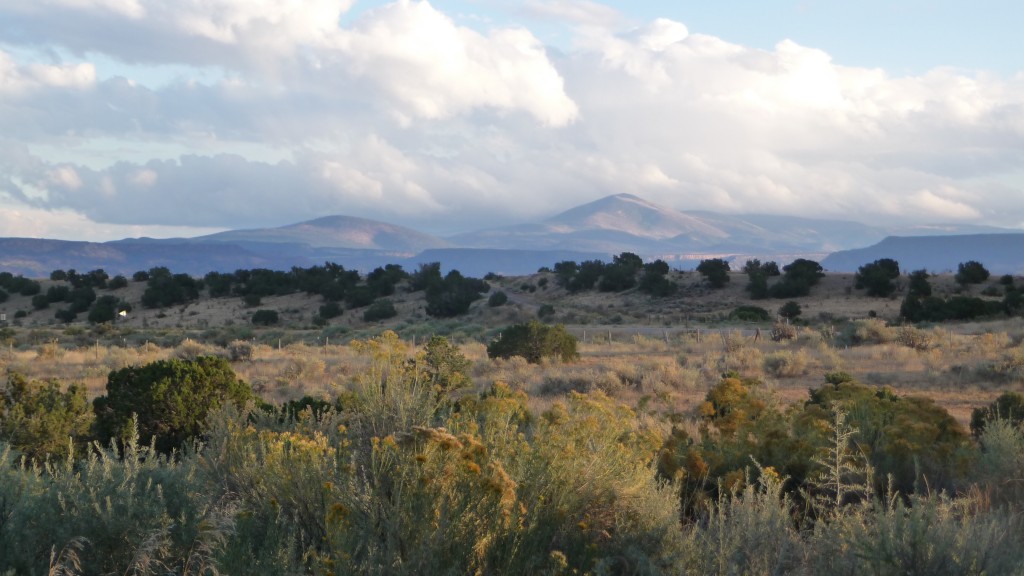 After nursing an icky tummy, we went across the street to a grocery store where we met a woman who is a former bicycle tourist and a perpetual adventurer. We talked with her for a good while and watched the rain cross the parking lot. We knew it was our lot to head out into that sodden mess of a highway, but we did so with grace. It was mostly downhill to Chimney Rock where we had planned on camping.

We found a snug little campsite in the woods and had just finished the nightly chores of balancing the bikes, covering them for rain, changing in to cozy clothes, grabbing books and flashlights, and finally zipping ourselves into the breathtakingly stink capsule of a tent that we inhabit when a cluster of thunderstorms opened upon us.

There is nothing like weathering a thunderstorm in a tent. The cacophonous claps of thunder began in the valley far away and slowly rolled toward us. The sound waves were caught and bound by the nameless rock faces surrounding our abode and clashed violently there. Fits of rain pelted the roof of our poor little tent and threatened to wash us away in the torrent of sound and chaos. Huddled there with nothing more than a millimeter of nylon between us and the storm's impressive display, I was impossibly warm, uncannily dry, and improbably comfortable. Props go to the world's best $5 yard sale tent. Thanks dad.

The rain eventually let up around 5 in the morning. I had been anticipating the sunrise on Chimney Rock but was not too surprised to find that we were waking up in the midst of a sea of thick and impenetrable fog. Therefore, I have no pictures of that national monument. Oh well.


We rode out to Durango in hopes of meeting with my hip and fabulous cousin, but unfortunately that whole college thing got in the way. We were appropriately bummed, but have found Durango to be enjoyable nonetheless. Here we picked up some cookies sent ahead by my momma, and are benefiting from the free wifi of a local coffee brewer. What could be better.

Tomorrow we head out to Utah, then Monument Valley.