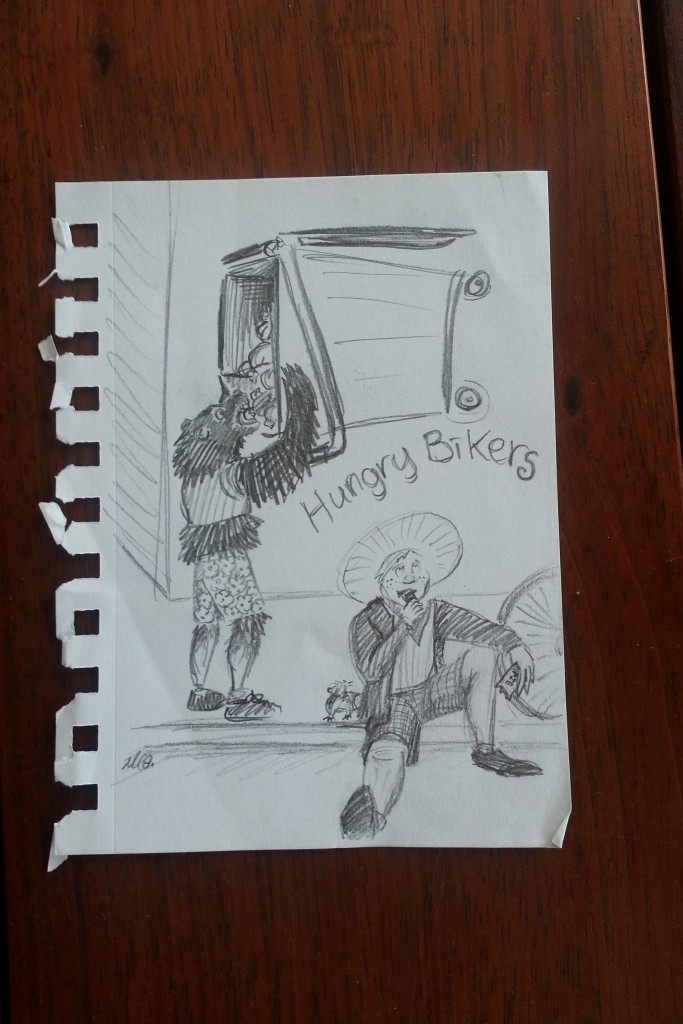 It seems like these posts are getting longer and longer. I'm not completely sure why that is, but I suppose it could be due to the distance between blog entries. Honestly, I simply just didn't want to start writing the blog for this week.
We were in Arkansas for quite a long time. I just entered our miles and locations into the WBD tracker spreadsheet and discovered that we were in Arkansas borders for 11 days! That's longer than we've been in any state aside from South Dakota. That's not to say that it wasn't great–Arkansas was a lovely surprise. We had a great tour of Little Rock High School though Lizzy and I are of different political perspectives and took different lessons from the museum there. We were both in admiration of the Little Rock Nine and consider ourselves quite lucky to have such a wonderful tour. We also had the pleasure of picking my dad up from the airport and having some much needed company for a while. We made new friends in Atkins, rode dinosaurs in the Ozarks, met friends of friends in Fayetteville, fixed up our cycle scoots for the road ahead and went swimming. What more could you want?
When we first left the Little Rock Airport, Lizzy and I realized with much excitement that the weather was changing. That morning it managed to rain and maintained a pleasant overcast haze until late evening. Rain–yes, even rain–was welcome as we had been cycling through heat that hung in the hundreds well into the night.
We put Daddy's bicycle together inside the lobby of the airport. This managed to attract the attention of some friendly security guards, but we were out there lickity-split and onto the Little Rock bike path system. Lizzy and I were excited to offer dad a first hand experience of WBD life complete with sneaky camping, dumpster diving, bugs etc. . . We camped at a church in Maumelle and managed to whip up a mean, chia seed spaghetti for dinner. I couldn't sleep that night because I was so excited to have Daddy with us, and I horked down a massive milkshake before trying to catch some shuteye. Liz and I kept accidentally setting off the motion activated overhead light so I eventually decided to read the fantastic book that my friend Mary had mailed me. At one point, since I couldn't sleep, I was able to get into a staring contest with a deer that had wandered into our camp area. It's not everyday that one enters into a deer-human staring contest. I lost.
The next morning we pedaled off into the beautiful, steamy morning through fields of cows and lazy pine trees. The terrain was becoming increasingly hilly as we approached the Ozarks, but it was decidedly cooler than it had been in weeks. This was good because it was also humid, and though Lizzy and I are used to the humidity here, I don't think Dad was. We rode full miles and made it as far as Atkins before we realized that we should look for a place to stay the night. The three of us (four if you count Beef) stopped at a little gas station market to get ice water and ask the lady running the store if she knew any numbers for churches in the area. She offered to let us stay with her and her family at her home outside of town. We considered, but not wanting to displace her family for the evening, told her that we would first look for a church at which to camp.
The road we were on was lined with churches on both sides. The second church that we saw had an attached house, so we went to the door hoping that it was the minister's home. It was. Sister Naomi, pastor of the United Methodist Church in Atkins was home, but didn't know if we could have permission to camp out behind the church. She left to call the elders and to see if the Baptist Church down the street would let us stay there (they have showers).
While we three were waiting out back for Naomi's answer, we were approached by a sweet Labrador and a man who went and retrieved a woman named Nancy from a house a yard away. We talked to her for a while and before we knew it, we were all in her house getting ready for showers, dinner, and to stay the night. We thanked Naomi profusely for her efforts to find a place for us, especially after we found out that she was ill, trying to get over a case of shingles.
Nancy has a wonderful home that was built for a doctor in the early 1800s. She bought the home for 8,000 dollars many years back. At the time, it was in such shape that it was necessary to bring an umbrella to the bathroom during rain showers. Now, however, it has been transformed into a cozy, dry home. Nancy, who is town famous for her wonderful pies, got to work in the kitchen and in a matter of minutes whipped up a meal consisting of pork chops, Brussels sprouts, mashed potatoes, corn, green salad, biscuits, gravy, and one of her famous chocolate pies. We were simply flabbergasted by the meal she had managed to put together for us when she had no notice that we three, bear-hungry cyclists were coming. Her pie was deservingly famous (sorry mom) I have never had so good a pie.
We fell fast asleep with our full bellies and were able to get on the road fairly early the next morning. We rode over increasingly steep hills to a little town called Ozarc. We met a fisherman on the outskirts of town who told us of a campground on the other side of the river and plodded on to a grocery store to get burrito supplies, and then took off to the Army Corps of Engineers campground. Daddy treated us to a wonderful (perfect I might say) campsite along the river. I put my hammock up in some trees along the water's edge and set the tent up for Dad. We made some burritos and fell into a wonderful sleep. It was an absolutely perfect night–cool and beezy. The stars were out, and though we were on the river's edge, there were no bugs.
I woke up in the morning to the sound of Elvis floating across the river. I was not pleased. At first I thought it might be a fishing boat blasting the radio, but the river was clear of watercraft. Dad suggested that it could be the shift change at the Butterball processing plant across the river. We all had theories. We rode back into town to get our fill of hashbrowns and sundry and discovered that the town of Ozark was hosting its annual Rods and Ribs car show/BBQ. They were the Elvis culprits. We decided to check out some of that classic car action after chowing down on a delicious breakfast.
The thing about big breakfast is that one's body requires a nap after eating it. Unfortunately, we had no nap time scheduled for that day. We slowly rode on over the river bluff hills , each left to his own thoughts. For instance, "why did I eat biscuits and gravy" and, "do babies grow more hair follicles on their heads as they get bigger, or are they born with all that they need and as their head grows the follicles spread out to cover that larger space?"
We made it as far as Alma before we had to have a little powwow to decide whether we should go west towards Ft. Smith and push up toward Joplin, MO, or to follow the hillier, but shorter Route 71 to Bentonville and take a zero day to figure out how to get Daddy's bike packed up and get him to the airport in Tulsa. We knew that whichever way we chose we would have to be in a town big enough to have a bike shop, UPS store, and transportation to Tulsa. We ended up decided to take the shorter route to Bentonville so that we would have more time to visit and get to stop by Lizzy's cross country coach's friends in Fayetteville.
Now that a plan had been established, we had time to get slushies from Sonic and peruse a gigantic second hand store across the parking lot. We got some treasures including a Star Trek Mugato and a really cool Davy Crockett figurine. From there, we made it up a steep hill to a KOA and decided to make camp for night, eat burritos, and go swimming.
Side note: This is the last seen location of Davy Crockett
The folks running the KOA were a little off so to speak, but we had a good time in spite of them. Our camp spot neighbors had a gigantic RV with a side porch complete with outdoor TV. We had a good laugh because of them as they were reclining in lawn chairs outside their massive home watching TV, but it's not really like we were doing any hardcore camping anyway. Our own little camp spot had wifi.
We left in the morning to tackle more hills, ride some dinosaurs at a little community park, and enjoy the cool air of the mountains. The later was an exceptional gift. It seems that in fall has come in all of one day. We plodded up the mountains and were impressed by the view at Artist's Point, then rode on to Fayetteville to stay with Becky and Larry.
Larry was waiting for us with the makings for an exceptional curry. We all three invaded their home, took showers, did laundry, began the tremendous task of charging every electronic device we could muster, and devour Larry's delicious homemade salsa. We had a lovely dinner together and even got a chance to see some end of the season fireflies. Becky out together a wonderful area for us to sleep and we all crashed around 9:00. Lizzy and my sleeping schedule is a little bit goofy since we have been rising and sleeping with the sun. Now, we are both suddenly stricken with sleepiness immediately after dark.
When we woke in the morning, Becky had a wonderful breakfast smorgasbord waiting for us. We had delicious coffee, various granolas and yogurts, and a great chance to talk. We left just before noon and Becky rode with us to the point in the trail where she felt comfortable leaving us without fear of our being lost. We got a group picture and took off onto the Razorback Greenbelt. That trail system is another reason to like Arkansas.
We only had 27 miles to go that day in order to get to Bentonville. We couldn't really go further because we needed to be able to have a day to pack up Dad's bike and such, so we decided to take the day really easy. We also decided that the following afternoon we would ride out to the Crystal Bridges American Art Museum and spend some time there. But first, we needed to ride to a bike shop and secure a large box.
We rode to the nearest shop I could find and ended up replacing Lizzy's chain and freewheel there. They had no bike boxes, but did have a significant secret coupon for a nearby hotel. We decided to check into that hotel and ride out to the bike shop Becky had told us about, Phat Tire. We got there and were glad to find ourselves in a real, honest to goodness bike shop. A Trek dealer to boot, it reminded me of Tommy's back home. They were able to hold a box for us and I decided to buy some new bar tape for my Amelia since I have always hated the green tape I put on her before we left and by then that tape had been reduced to shreds. I had been re-wrapping my bars in rope from side of the road. That was working, but it was not a tidy looking thing.
We affixed the box to my rear rack and I bike delivered it to the hotel. The bike shop was only three miles from where we were staying, the hotel had offered us a ride there for 20 dollars but I simply refused. I have never been denied a load on my bicycle except for my guitar and I don't think my guitar is something to be bicycle goofing around with anyway.
We made it 'home' without a hitch and retrieved another coupon to a Thai restaurant across the street. We froggered cross four lanes of traffic to get there, but it was worth it. So worth it that we decided we'd have to go back the next day. When we got back to our room (which was scattered with the luggage, tools, and paraphernalia of three bike tourists) I received a phone call from home. My friend Wayland had been oiling the roof and had slipped, fallen, and broken his back. It was very upsetting, but I was glad to be able to get some words with him before the doctor came. This did nothing to decrease my mounting desire to be home.
Though we were concerned for Wayland, we had made the best of the time that we had. Each to his own chore, we kept telling ourselves that we were going to have a Netflix party. It didn't happen that night. When we woke up, we had until 11 to clean up the gigantic mess that we had created. Balancing coffee, bikes, rats, and swamp hats we made quite a spectacle as we left the hotel building. We checked into a hotel across the street that had a pool, deposited the elephantine box there, and rode out to Crystal Bridges.
None of us had checked the times for the art museum since it was a Tuesday, but sure enough, it was closed when we arrived. Apparently they close every Tuesday for building maintenance. It was a bummer, but we got to ride around the grounds and see a couple sculptural pieces. We spent a good while at the geodesic sphere called the Buckey Ball. From there we decided to get some chores done and buy some groceries, packing tape, and a sharpie from Walmart.
Walmart is from Bentonville, and everywhere you go there are blue and khaki clad professionals. We meandered through towering Walmart Corporate Offices, Walmart International Offices, Walmart Research and Development etc, until we found the layman's Walmart. We got our things and rode home to take a nap and go swimming.
That night we did go back to the Momma Fu's Thi restaurant (which was just as good the second time) and managed to get Dad's bicycle packed up. We watched a couple original Twilight Zones and ate popcorn and M&M's as per family tradition.
The next morning we had until 9:00 to get the bicycle to the UPS store 0.6 miles away. Dad and I left Lizz in the hotel room in case the shuttle driver came early, and the two of us carried the bike down to the store. By the time we got back, this shuttle man had arrived. We gave hugs all around, and then Dad was gone.
Lizzy and I packed up and headed out. I had to make a couple stops on the way out of town, but we were on our way in no time. We followed the bike path to the Missouri border, and then rode through the mountains to Baxter Springs, Kansas. We rested there, and were so close to Oklahoma that we couldn't stop for the night. In spite of the gnarly headwind, we pushed on, into OK and made it as far as Miami. It was a long day.
We saw a church with cars in the parking lot and decided to pop in and ask for permission to camp on the property. They were in the midst of a huge teen rally event so we waited around for a while. We were given the okay and were shown to an absolutely perfect covered area where we could camp, and were invited inside to get our fill of leftover fruits, cookies, Gatorades, and doughnuts. We were also shown to the showers and got to spend some time talking with those who were cleaning up after the event. We headed back outside and cooked up a mean batch of burritos but were unable to eat all that we'd made since we had snacked so much in the church.
After a good night's sleep, we headed out towed Tulsa where Lizzy's family lives. We made it as far as Sequoyeh before it started getting dark. We had no place to stay and the only church in town was chuck full of little kids practicing football. There was a basketball game going on at the high school across the street so Lizzy and I rode over to the high school to wait and see which location vacated first. We had a fine dinner of chilly, canned goods. After an hour, it became obvious that neither place would be empty anytime soon, but the basketball game had ended. The two of us went into the school to use the restroom and fill water bottles.
I do not like the idea of sleeping on school property when school is in session because it is just not a very responsible thing to do, but we really had no place to go. The plan was to cross the school property and hammock in some trees on the other side of the parking lot, but when we made it to the trees we saw that they were enclosed in by a fence and tall grass was growing between them. I had seen some fairly sizable snakes on the side of the road and the prospect of hopping a fence into unknown, potentially snake infested shrubbery was not appealing. Instead, we wheeled around behind the gym where a cluster of air conditioning units were sitting on a bug-free concrete pad. We popped up the tent and set the alarm for six. I wanted to be out of there well before any people showed up, but I knew that if anyone had the gumption to show up to work very early they would probably be some of those crazy self-disciplined exercise people and head straight for the gym.
Sure enough, when the alarm went off just before six in the morning, someone was already in the gym. I rolled my bike away from the windows and we packed up camp. We were on the road well before the sun had risen, and thus got to experience a glorious Oklahoma sunrise as we pedaled toward the nearest place to get coffee.
Since we had pushed ourselves to Seqouyeh the night before, we had less than thirty miles to ride that morning. We were excited to be heading toward Lizzy's mom's aunt and uncle's home. It was an eventful ride nonetheless. We were traveling along Route 66 which is has stretches of high traffic. I hadn't really slept much the night before and I missed a turn, so we were on 66 a bit longer than we really needed to be. In that time, a horrible, maroon PT Cruiser looking vehicle wooshed by us followed by about twenty Police/Sheriff/Highway Patrol cars. We pulled off the road to watch the high speed parade and then carried on our way. Whoever they were chasing was making quite a mess of the place and for a while after they had first passed us we heard and saw evidence of their evasion. At one point we ambled upon the crushed remains of a Sheriff's SUV and a poor little mini truck (I have a growing fondness for minitrucks and I was upset to see that causality) We rode on, up an extremely steep hill, and into the loving arms of Maryann and Dale.
Lizzy had put together a nostalgia tour bike route, and I needed to work on the maps. After eating a wonderful lunch with Maryann and Dale, Lizzy biked off into her memory and I used Dale's computer to get some work done. I haven't really been in front of a computer for any great time since school. I was surprised by the burning in my eye sockets and the hot, splitting feeling creeping up in my brain. I was starting to get nauseous before I decided that maybe I should let it go and relax a little. Maryann–a superb hostess–showed me to my room and shower. I sat down on the bed for a minute and fell asleep, waking up about an hour later not realizing what had happened. I went back downstairs to visit with Maryann and play with two of her grandbabies that she was watching. It was absolutely wonderful.
After a little while, Lizzy and Dale returned (Lizzy and the bike got a ride back home) and we all got ready for the arrival of Dale and Maryann's children and their families for a Baker family Friday pizza party. It was a hoot, but once 9:00 came Lizzy and I both found ourselves fighting back sleep. I finally gave in and went to bed.
I woke up at 9:00 the next morning. That was pretty shocking to me since I rarely sleep past 7:30. Dave and Maryann were away, so Lizzy and I helped ourselves to coffee and oatmeal and waited for their return. We left for lunch with Lizzy's Aunt Kim and cousin Danny. We got our fill of fajitas and then went back to their home to have a private showing of Danny's mad martial arts skills. He is preparing to test for his black belt. We also got the opportunity to work on a coloring project–Kim teaches kindergarten.
We left around 4:00 to go back to Dale and Maryann's to meet with Lizzy's cousin Erin. She was planning on bringing us and the two bikes to grandpa Trickey's, but a quick assessment of the cubic footage in the back of her minivan told us that nothing shy of a miracle would get our colossal amount of impedimenta in the back. We ended up cramming Lizzy's bike in the back of the van and made arrangements for Erin's husband to retrieve my bicycle after work.
We hopped into the van and took off to see Erin's new house and get some ice cream from the Oklahoma landmark, Braum's. We had a great time giggling and being utterly silly as we drove around Owasso, then to Erin's where we played with her five dogs and chickens. Erin, who is a professional hair cutter-upper, gave Lizzy's quaff a much needed chop. An edgy look for Oklahoma, but a breezy one for riding bikes through the desert.
We all loaded into the van and headed through the dark to Grandpa and Grandma Tricky's, where we were met–with miraculous timing– Erin's husband who had managed to transport with neigh a scuff the "biggest, most awkward bike on earth." Many thanks.
We had a good chat before Erin and her husband Robert headed home. For us, the chat continued to midnight.
We were awakened the following morning by a trumpet blast, the low crash of thunder, and the sky split apart by lightening. It was a wake-up call of Biblical proportions, as are the intentions of Grandpa Tricky who blows his horn every morning at at sunrise before his prayer time.
I think I might let Lizzy pick up from this point. With this abrupt ending… Thank you to everyone who sent us letters and packages. It is always a blessing to hear from home, and abroad too!
PS This is a Gorn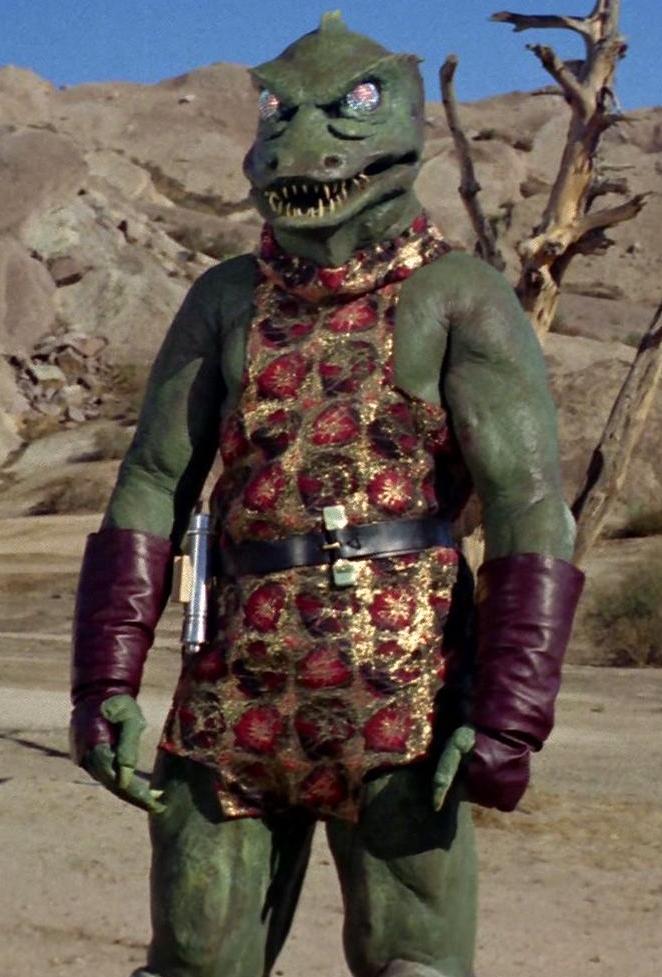 This is a Mugato

I happen to like me some Gene Roddenberry Star Trek.