There's nothing quite like being so close to the rain while being so well sheltered.  Lizzy and I were able to get good quality rest during our night at the school, despite that fact that we snoozed a few hours less than normal.  I woke up around 5:45 and in my sleeping bag looked at our route for the day.  We planned to leave the school especially early as to not upset any employee-folk.  You just can't rely on people believing you when you say "I'm not a weirdo."  Some surprise flood lights came on before I could wake Lizzy, that told us the lights were on a very odd timer or someone was at the school.  We packed up rather quickly and rolled our mobile homes toward the road.  No one was around yet so we sat in front of the school for a while- mostly waiting for the morning light to increase our visibility a little.
Once we got rolling the rain and wind didn't bother us all too much- it meant we didn't need to put on sunscreen, and that the snails were out!  We rode by a man riding his ATV along the border of a field in security-man style, but we got a very friendly wave from him.  Lizzy and I spent a while looking for a left turn, and once we finally found it we coasted down to a Shell station near the 101 and the town of Greenville.
Greenville provided us with a nice thrift store where Lizzy picked up Mr. Motivator for free! She offered ten cents but then the woman running the store just told her to take it.  Mr. Motivator now sits on the edge of Lizzy's metal basket; zip-tied for safety.  He's a sleeper-inner but once 10 AM comes around he gets loud and proud- helping Lizzy to climb hills on her bike and not quit the tour all together.  Everyday I'm increasingly grateful for Mr. Motivator.
We rolled along mixture of side roads and the 101 battling all-to-familiar headwinds.  Good thing we had Mr. Motivator.  By the time we were in King City, about 25 miles into our day, the skies had cleared and we were even beginning to dry out.  A trip to the grocery store there and 5 hours at the library later, we were ready to hit the road to finish our day off.  I almost forgot to mention our trip into a little Mexican Grocery Store!  It's been pretty neat to travel through in towns where more than half of the advertisements and signage are in Spanish.
The next twenty miles were full of rolling hills and cattle- and a passenger train!  Upon online inspection, Lizzy and I now realize that, since we couldn't take HWY 1 south of Santa Cruz, we often cross the train tracks we'll be taking north from Santa Barbara on March 27th.  The train sped by, exciting the cattle, as we waved at the passengers.
In San Ardo, a small town of around 400, we scoped spots to to camp and headed to the town market.  The man at the market was interested in our tour and very friendly.  Sometimes it's hard to tell how genuine people are when they work for an organization trying to sell you stuff- but we knew he was a keeper when he gave us our candy FOR FREE!  He also told us that cyclists often camp at the church in town- which is where we ended up after mozying around town for a short while.  Lizzy and I made friends with some local kids when I returned their basketball.  The town was friendly, and these kids didn't even call me a faggot like the punks in Fort Bragg, whose basketball I also returned.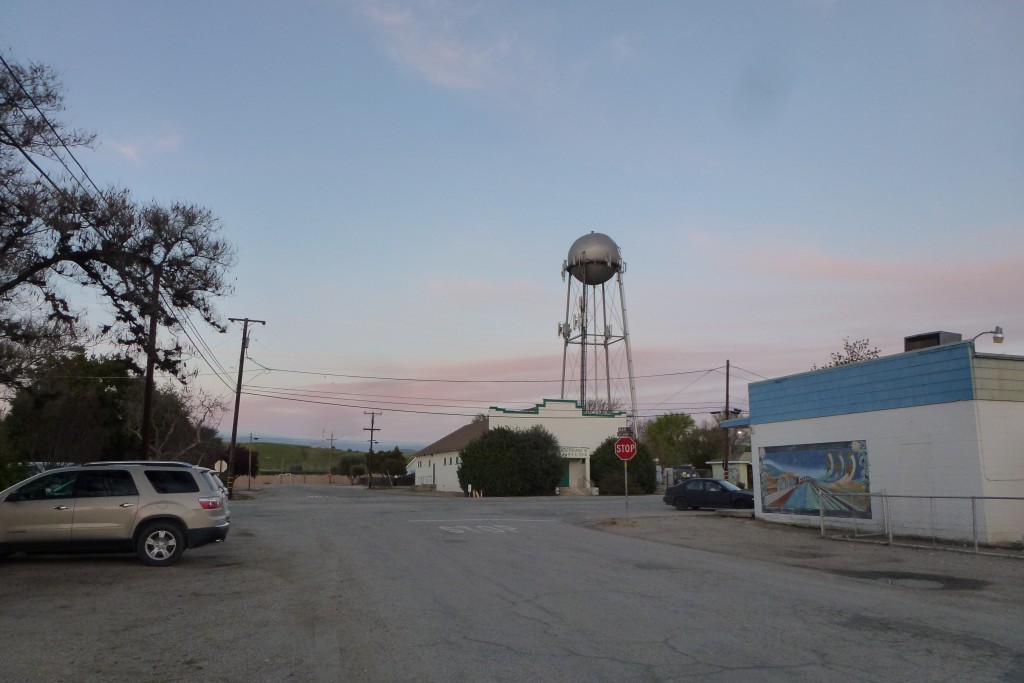 We pitched our tent because rain was forecasted for the morning. After a dinner of you know what, we called it a night.  It'd been a long day.
The next morning we played the game where you hear rain on the tent and wait in 30 minute intervals to see if it will stop.  We won and got ready for our day.
After filling our waters and using a very special porta-potty Lizzy and I tried to leave town via a dirt "road" adjacent to a field.  The rain overnight had soggied it all up and before 200 feet of riding, so much mud had caked between my front wheel and fender near my brakes that it stopped my progress all together… I whined to Lizzy, whose bike was fairing a little better and carried my bike back onto the main road we'd left; even trying to push my bike through the field the front wheel wouldn't turn but slid…  This made me especially whiny because I built my front wheel just this January and the pebbly mud that covered the rims and brake pads would surely scratch and form some divots on the rim surfaces.  WHINE WHINE WHINE. Anyway I washed some of the caked mud out of the space between my rim/fender/brakes to the point that it was rideable (yes, Lizzy told me afterward… drought country).  I disengaged my front brake cable (very bad Safety Turtle) so I wouldn't accidentally use the front brake, at least until I could clean it all up a little more.  Lizzy found a new route and we headed South out of San Ardo.
I should note, if Lizzy had told the above tale, it may have only filled two lines- so I apologize for my ranting nature.   It was actually a good experience though; reminds me that regardless of how nice and new something is, even if it's a very special item-show and tell material- it's gonna get used and maybe a little scratched up, and THAT'S OKAY!
We took Sargents Road through some familiar agriculture and were a little surprised when we entered an expansive oil field…  The mechanical bodies looked sturdy and were oddly mesmerizing.  I think their strong appearance made them eerily fit into the beautiful landscape beyond.
We rode deeper into the oils fields and saw a row of signs that we weren't sure were for the road or the property adjacent to it. "You're in hard hat country," one sign read. Climbing into the foothills and leaving the most dense area of rigs, we also passed a sign that warned "not a through road."  These signs are hard to read on bicycles because they always lead us to the question of: Well to what extent is it not a through road???
We continued on; Lizzy was confident that we wouldn't have to turn back but I had a similar feeling as when we hoped to bypass the closed section of HWY 1 South of the Avenue of the Giants.  Hopefully we wouldn't climb the 1200 feet we saw on our directions to then be forced to turn around.  Moving on, the hills welcomed us!  Unfrequented by cars, the bumpy and narrow road winded through small valleys with homes of the past, mature oak trees, and grazing cows.
Our much anticipated climb began and it was steep!  As the elevation increased the quality of the road decreased until it'd clearly been long taken over by the flora of the area.  After a steep turn we came to a gate across the road. END.  Getting our bikes over this was a little challenging, and I almost broke my leg slipping into the cattle grate as I ran to get into a picture that my camera would take on a timer.
Past the gate the road became very sandy and was more like an old river bed than a road.  Don't get me wrong; riding downhill a path best suited for a mountain bike on a loaded touring bike was exhilarating.  Lizzy and I had a hard time not being overly distracted by the scenery, trying to simultaneously dodge nasty cow pies and quickly slow for small streams that's dug inches into the road.  Having the road to ourselves was a real privilege.
We maneuvered over another gate and continued downhill into the very small town of Bradley, where we stopped at the library just a minute after the sky started pouring rain; which was one minute after I said, "It's amazing how we haven't been rained on once today."  The single room Bradley library was ran by our new friend Darlene!  She told us about the town, what she and her husband have been up to, and pointed us to the computer we could use to work on the blog.  We shared stories and she mentioned that the men at the firehouse a block away were "her sons."  Lizzy and I got the feeling that she was like a mother to most in this town, and left her with a WATSI card.  She gave us extensive advice on directions and told us about the diner Margie's, in Paso Robles, our destination for the evening.  "They have good coffee," she promised.  Lizzy and I scooted to the firehouse to fill our water bottles; because we look like hoodlums and were probably acting too goofy, three firemen of the town came to us and made friendly conversation.  They told us that Darlene was basically the mayor of the town, to which Lizzy exclaimed, "Wow we had an hour with the Mayor?!?!?!"
The rest of our ride that day can be described by smooth roads, a few small towns, and some interesting murals.  Our route was now on that of the annual AIDS ride, which goes from SF to LA.  I'm not sure what time of year it is but the roads are nice- wide shoulders on 101 and smooth country roads as well.
We also had our first tailwind…  On day 21 of 25.
Once we reached Paso Robles, the size of our own hometown, we spent several hours at the library and then rolled to grocery outlet.  Luckily, despite a couple heavy bouts of rain this day, we'd just about avoided it all (in our tent and Libraries).  Lizzy scoped Google Maps for camping and lead us to a few options.  The school stadium was very well gated but the church parking lot (long, well-lit, and fenced) displayed some perfectly placed shipping containers.  We had dinner, talked to loved ones, and set up the tent between a fence and one of the shipping containers, directly below a hecka sweet gang tag.  Perched above a storage facility, and adjacent to a well lit parking lot, I felt relatively safe.  The night was full of interesting noises (i.e. garbage trucks, and folks taking out their recycling bins in the wee hours), but it turned out to be a pretty good spot.
Our day of riding to Paso Robles was a true pleasure- Lizzy and Kyle and I have been very lucky to have such nice stretches of roads to ourselves.
Like Lizzy has mentioned… We write to you from the future.  We're now using a very special shea butter sunscreen.  We love it.  and it smells GREAT.  but perhaps we don't;  You can't just cover stink up.
All the best from the future,
Safety Turtle+Hi Horse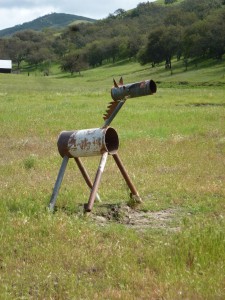 ---