So, we had been in contact with Watsi as we got closer to San Francisco, and planned to have lunch there on Friday.
Stink looked up times and fare for the ferry the night before, and we had just enough people money to get us there and back. People money being cash that people give us on the side of the road and at gas stations, that we use for bike parts, mexican dinners, and ferries.
That morning, we got up early, hung about, and drank copious amounts of Aunt Sharon's coffee. She has a 20 year old espresso machine that we made full use of.
Around ten or so, we hoped on our nakey bikes and zipped down to the ferry terminal. Minutes later, we were boarding and finding some seats with plenty of leg room, agreeing that this is how airplane travel should be done.
It was about an hour to SF, and we stepped off the boat and right into downtown. We had a quick zip over to Watsi HQ and were greeted by the growing team.
After we said hi to everyone, we all walked en masse to the food carts and Trader Joe's down the road. Stink & I both got some dope wraps, and made our way back.
Everybody crowded around for lunch and asked questions and we told them about the ways in which we had been telling folks about Watsi for the past six months.
I was talking so much that when I started in on the second half of my wrap, I looked up and realized everyone else was already done eating. So I picked up the pace and horked down the rest of it, under the watchful eye of like, fifteen other people.
Grace hooked us up with some print materials, photography and stories from their most recent trip to Wuqu' Kawoq, a clinic for indigenous peoples in Guatemala. Sara grabbed a couple shirts for us, so we could rep Watsi on the fly. And then, soon enough, we were saying bye, till next time, when we have the hankering for adventure and want to do some good along the way.
After Watsi, I insisted that we go to Chinatown for a final farewell goodbye hum bao run. Then, as I was sweating buckets just pushing my bike up one of a series of increasingly steep hills, I remembered why one does not take biking around San Francisco lightly.
But we made it there, the sights and smells familiar and reminiscent of all the previous Chinatowns we had scooted through. We did our usual hunt for odd produce, mochi treats, cell phone charm dangly thingys, and all the bakeries we could find. I'll have to say, the best bao we've had still has to be from the shop in Cleveland, Ohio. Go figure.
And, after months of searching, I even found the most perfect cell phone dangly thing. I'd say we had a pretty successful final run.
We rolled, downhill, back to the ferry, bellies full of bao, off-brand mochi, and really strange drinks that taste like over sweet bread (a can of wintermelon tea… not sure I'll ever go for one of those again).
The next day, Halloween, I had plans to meet up with my long lost Aunt Victoria (who was adopted away as a babe, and only recently came in contact with the rest of the crazy Trickey family tree).
I dressed up in my best pirate hat and rolled out to meet her at Starbucks in Vallejo. Her boyfriend, Doug, and dog Tilly (Tillamook) were there too, so it was a great family reunion/first meeting.
We hung out and talked for hours, finding many similarities between us, and sharing a love for adventure and animals. Eventually though, I had to get going to go pack up my bags and head to Napa, where I had arranged a Warm Showers host for the night.
We said our byes, and promised to meet up again. I've got a cool new Aunt. Anyways, I rolled back to Stink's Aunt Sharon's house and started getting my junk together. Her Aunt Becky had come by too, to deliver a letter from my friend Timmy, and to say bye.
Finally I was ready to go, and said bye to Sharon, Wes, Lillian, and little Nate (who would not come give me a hug, you stinker). Then, I said bye to the Stink herself, for the first time in six months! Crazy! But yeah, I'm sure I'll be seeing her around once I'm home.
I scooted off, and pretty quickly found myself in Napa (I didn't know how long or when I was going to meet New Aunt Victoria, so didn't plan for a full day of riding). I got to my host, Lindy's house and right away gave her a hug and fell in love with her dogs, Marty & Gidget.
We hung out, I showered and put on my pirate costume (I wouldn't miss Halloween for nothing!) and Lindy's friend, Linelle, came over to hand out candy with us. Linelle and I ended up walking over to a Tunnel of Terror a few blocks away, which was fun, but not at all scary. I'm such a party pooper.
Lindy made this great vegan meal of lentils, a fresh coleslaw, and avocado burritos. This lady can cook!
Around 8:30 or so, we gave out the last of the candy, another successful Halloween in the books, and then sat around and chatted about life and such.
I zonked out on the livingroom floor and was super cozy. The time changed that night, so I woke up early the next day and we had coffee and yummy breakfast (Lindy's homemade muesli and jams and toast, yum). She even sent me off with a jar of her plum & pear jam, and took photos of me and her before I took off (she's a graphic designer, so they look really nice, despite my goofy self being in them).
So, yup, that was a good day. I scooted out to Calistoga and ate lunch outside the library. I totally recognized the gas station in town from the previous tour (when Stink & her sister Heather & I rode up to Port Angeles, WA, then down the coast to Vallejo). I'm getting a lot of that deja vu now, heading north.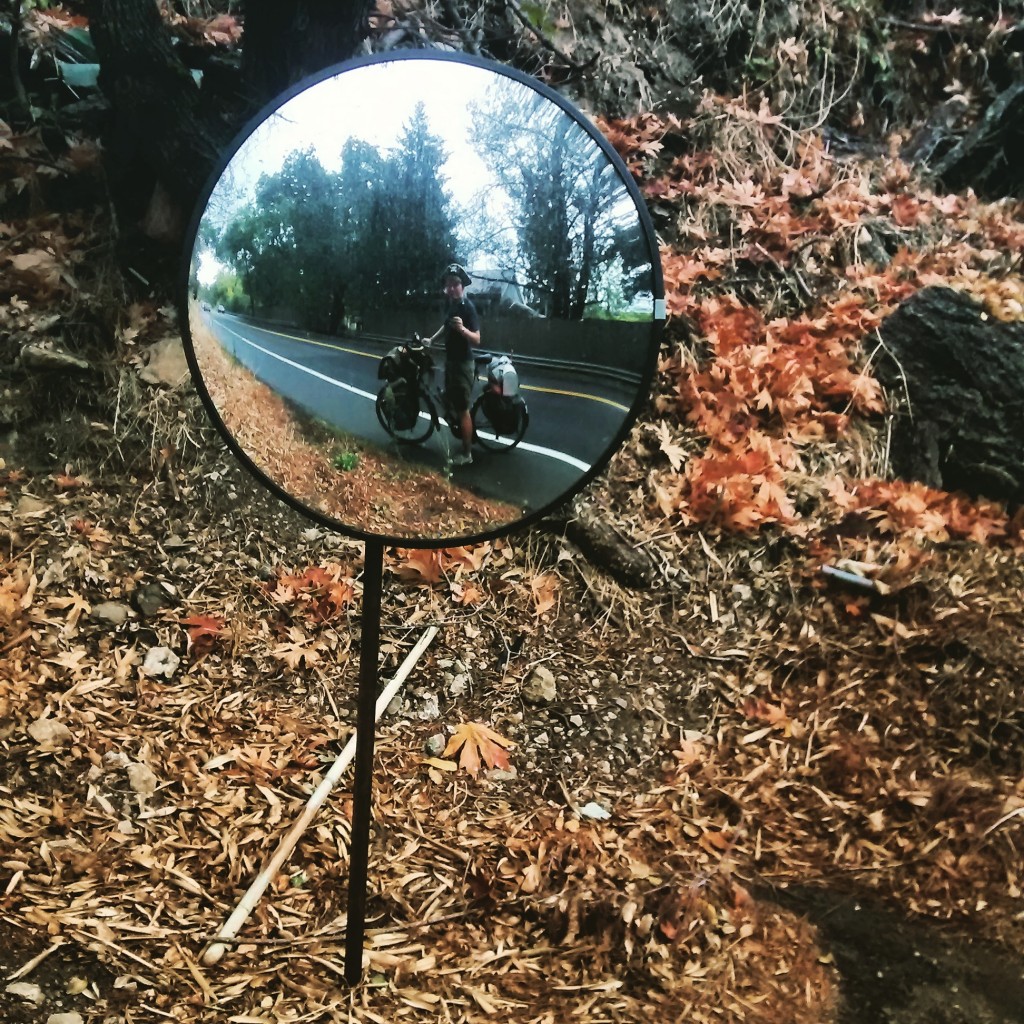 I wore my pirate hat all morning and got laughs from the other cyclists scooting through the Napa valley. It was fun, but then I left it at a gas station for some other person to find & enjoy.
Towards evening, it started sprinkling and threatened to get worse, so when I saw a campable spot on the Alexander Valley Community  House porch, I took full advantage of it and pulled of the road.
It was nice and quiet and dark, and even had outlets to charge my phone and tablet. I stayed up for a bit reading, then fell asleep listening to the sound of the rain on the roof and in the gutters.
In the morning I rolled out to Geyser and got coffee at a shop there. I awkwardly tried to make friends with some of the locals, and did… okay. Haha.
On the road, I ran into a fellow tourist heading north, Andrew, who you'll find out more about later. 🙂 At this point we just talked for a few minutes then passed each other by.
I arrived in Ukiah early afternoon. I had another Warm Showers host arranged, so had plenty of time to tool around and visit ALL of the grocery stores in town.
In the Safeway I had a funny conversation with an elderly lady who was checking in the mirror to make sure she didn't have any tp stuck to her pants. She said it happened to her once and was so embarrassing that now she checks every time!
I also went to the bike shop in town, Dave's Bikes, and restocked on patches. I ended up having to go back over there later to get a spare tube (the ones I had had too many holes in them to bother) and the owner, Dave I presume, gave me some extra patches for free. THANKS DAVE!
My host that night was Justus, a super cool dude who lived right downtown. We hung out and talked books, bikes, and everything in between. Eventually he had to go off rugby practice so I had the house to myself to eat dinner and watch Netflix like a proper human.
Later, his friend came over and we all sat around and had a good time, drinking some flat shocktop and some really good winter ale.
But then it was sleepytime, and I zonkered out. In the morning, Justus had to lead a bible study, then head off to work, teaching elementary students at a school nearby.
He brought by some bagels and just let me head out whenever I was ready.
Eventually I dragged myself away, and scooted out to Willits, and loitered around in a McDonald's for a bit… and maybe ate like four pies.
I talked with this guy Mark who was just flabbergasted by the trip we'd accomplished, and said with that amount of energy I could have built a couple houses. Dang it. All this work and I don't even get a house out of it!
I headed out again, and was in contact with Stink's Ma, who was gunna meet up with me on her way down to pick up Stink. Unfortunately though, her road out to 101 ended up turning to gravel, then closing entirely, so we missed each other. Bumm.
I did get out to Laytonville, at a late lunch of ramen on the side of the road, which was nice because I was cold as well as hungry, then scooted farther up into the hills.
I stopped up at a big domed gravel hut building thing and crept into the bushes to set up the tent and hide my bike. It was getting pretty chilly out, and I was at a high elevation, so I got on all my cozy clothes before climbing into bed.
In the morning it was so cold I didn't want to get out of my sleeping bag. Eventually I dragged myself out and began to pack up. But the tent was covered in ice and my bike was frosted over. My fingers were burning with the chill, so it took me a good while to get all packed up.
I scooted on a quarter of a mile to a rest stop and took full advantage of the hand dryers in the bathroom. Ouch!
I talked with some folks there, one being this gal Sarah, who was admiring my scoot. She had biked the TransAm before and had just continued traveling after finishing that, falling in love with the road.
Further along the road, I met up with Andrew again, and we teamed up to bike to Gaberville together. He's a fellow vegan/gay/biking enthusiast/person, so we had plenty to talk about.
In Gaberville, we stopped at the grocery store, where I asked if I could use the bathroom and/or fill my water bottle, but was given a very rude negative response… I think they're sick of transients there…
We went a block further to the Subway and I showed Andrew the ropes for ordering a bomb vegan sandwich and we porked out.
Another cyclist, Kane, joined us for lunch. He's heading north to south though, so we gave each other tips for the road ahead.
Andrew & I decided to scoot out to the Burlington campground in the redwoods, where Kane had stayed the night before. Back on the road, we soon took the exit for the Avenue of the Giants, and scooted along under the towering trees, centuries old, and impressively looming above us.
We found the campground and got a hiker/biker spot for five bucks a piece. I walked around and collected firewood from the fire pits at empty sites, and soon had a small blaze going.
Andrew rode off in search of a mythical grocery store a mile away, but came back empty handed. The myth remained just that.
We cooked up a nice pot on the fire of black beans thickened with mashed potatoes, and topped our burritos with bbq sauce, carrots, and nutritional yeast. Yum!
As we were cooking dinner, more cyclists started showing up. Everyone else was heading south, but it was all good. We talked with some and shared space by the fire.
In the morning, I woke before six and felt like getting up and starting the fire again. It was still dark as I fumbled around and got the small blaze going again.
It was worth it though, as it quickly warmed my chilled hands. I packed up my tent, made some tea, and was starting in on some oatmeal too, when one of the camp hosts came by, abruptly asked where I had found the log that was currently crackling in the flames, and when I told him I had just found it laying around in the campground, he told me to "immediately get some water and put it out". Oops. Oh well, it was nice while it lasted.
After finishing my breakfast, writing a birthday card to my dad, and packing up my junk, I was cold, but ready to go.
Andrew knew of a Starbucks in the next town, 28 miles away, so we made it a goal to get there and get a fancy vegan frappucino (he totally had to show me the ropes… I've only ever just gotten the hot coffees there).
It was a nice ride, though I made us stop a bunchto do things like take a photo with the big corn, and get blackberry popsicles from the best honor system roadside produce stand in the world, as if I wasn't frozen enough yet…
When we finally reached Starbucks, Andrew insisted he get my drink, using his green status gift card (which basically means you can free refills of hot or iced coffee), then we sat about, doing what cyclists do best, loiter, use wifi, and charge their gadgets. Good times indeed.
So, I'm gunna end this post there, and update y'all in a few day with more tales from the road.
Love love,
eLizzybeth
---