Well, well, well. Now that we're half way through and are officially heading west for good we can say with pleasure that we're finally on our way home. There are a few things I'm looking forward to, mainly sitting in bed with my dog, a good book, and a big ol' mug of momma's coffee listening to the rain outside. But before all that, we've got some work to do. We are nearing Oklahoma where we will spend a couple of days in Tulsa visiting Lizzy's extended family. My daddy is flying out to Little Rock next week to ride with us for a few days. We still have the beautiful desert to cross, the Grand Canyon, Death Valley, and a visit with my fambam in California. Still, it feels good to know that every stroke forward is a stroke closer to home.
It was hot in Dothan, AL, so we stayed in the library for as long as we could–we've become those people who sleep in libraries. We did an interview with the paper and eventually left, plugging away into the miserable heat. The road was fairly nice though, so we were able to make good time. That night we found a great place to sleep at a baptist church in town near a laundromat. We both slept so well that there is nothing much to say about it.
In the morning, we rode out to a gas station for the normal routine of coffee/breakfast/bathroom. A man there though we we homeless and offered to buy us breakfast. It was very sweet of him and we got an opportunity to talk about Watsi, and also made mental notes that it is time to 'clean up the house.' Sometimes the bikes get, well, a little sloppy. This is especially true if it has been raining since we employ some highly advanced technology to cover our gear…mainly old shopping bags.
We made it to Florida that morning and I was kind of surprised at how different it was than I expected. I think that in my mind all of Florida is like the Everglades, and I think I expected to cross the state line and find myself knee deep in a gator swamp, but this is not the case. Northern Florida is just like Southern Georgia and Alabama: light pine groves, cows, and dead armadillos. It was getting steadily flatter, and we knew that we were close to the beach, so we ended up riding 81 miles to Shalimar, FL. We hadn't really intended to go that far, but it was a lovely, cool evening, and we both felt like it. To top it off, I finally was able to find the NPR frequency on my little FM radio and I was listening to an interview with a man who has a successful cricket farm in California. He and his business partner are trying to introduce cricket powder (a complete protein) into the northwest whole foods market. I have some friends who were toying with this idea as a future project in Papa New Guinea, so I was excited to tell them about it. (I forgot to, so this is me telling you Mary)
To celebrate our miles, we made the decision to eat Mexican food and we found a great little restaurant and porked out. The staff was very interested in what we were doing and gave me a fantastic "Pepper's Grill" pen that I have been using every day in my journal. As we were leaving, we spotted a church across the street that still had cars in the parking lot. We rode over hoping to find a pastor and ask permission to camp out in their property. We did find the ministers who gave us both permission to camp in their open air courtyard, and use the shower. That night however, our beauty rest was interrupted by a very drunk man who stumbled into the church grounds and wanted to talk about the bikes. When he finally realized that we were trying to sleep, he trundled away. Of course, I couldn't really get into a deep sleep after that because I kept thinking he was coming back. Eventually I drifted off, only to be reawakened by the sound that sends dread into all cyclotourists: sprinklers. There is absolutely nothing that gets me out of bed quicker than the sound of a sprinkler and the threat of being soaked by freezing water at 4 in the morning. Fortunately, neither of us got wet.
We decided to take a leisurely morning since we were a tad ahead of schedule for our post office pick up, and because we deserved it, and because there was a Starbucks down the street, and because we wanted to enjoy the Navarre beach. So, we stopped at the St. Arbucks to get fancy coffees, and we went across the street to the Winn Dixie. I didn't know that Winn Dixie was a real store, so that was kind of fun. Lizzy did a phone interview and I did a whole lot of something. Oh. Map stuff.
It was hot and windy, but flat. We kept a speedy clip as we rode out of town, through the airbase, and out to Navarre. We did an interview at the Walmart and headed toward the water. The beach wasn't really what I was expecting, which is not to say that I didn't like it, or thought it wasn't beautiful because it was absolutely beautiful, and so bright I was getting a headache even with my swamp hat and sunglasses.It just was too sterile in my mind. Unlike the frothy, chilly, violent waves of the Pacific, the Gulf waves were lappy and lazy. The water was so clear we could see the hairs of our toes when we were neck deep in it. There weren't big berms of dead, washed up kelp on the beach either. The white sands were devoid of much of the debris of the coast at home: no hunks of driftwood, no wads of shells, no dead seagull skeletons, no charcoal. We swam in it for quite a bit and then retired to the bikes to eat more snacks and let our clothes dry. I took some time to walk around and take pictures and got zapped by a jellyfish.
We left and rode out to Gulf Breeze, a bridge away from Pensacola, and made it to the post office before closing. Unfortunately, not all of the packages were there, but we figured we could come back in the morning as we were staying in Pensacola that night. The post master thought the we were rock stars because we had so much mail. We got so many letters, cookies from momma Sue, drawings from Lizzie's cousins, and a hammock from the McMinnville Master Gardeners. Thanks all!
We had an interview at the post office, and then went inside and made a big mess opening the above aforementioned parcels. From there we had a nice ride to downtown Pensacola to the First United Methodist Church who agreed to host us that night. Jeb, the host, met us, handed me the key to the youth building, told us the kitchen was ours and left. It was awesome! I had grand plans of falling asleep at 6 since I was so tired, but there were unlimited possibilities to use the time and space we were given. For one, there was a piano. For two, there was a kitchen. For three, I finally had time to call some of my friends who I'd promised to call weeks ago. And there was both space to reorganize all the junk on the bikes, and plenty of comfy sitting places for reading and writing. I made myself some dinner and went out onto the deck to call home and go for a walk. Lizzy took some time to write post cards and make burritos.
I went upstairs to pick a room to sleep in, sat down on a couch to try it out, and immediately fell asleep. Immediately is no hyperbole. I don't think I've ever been so tired except for when I was doing missions in Mexico. When I woke up I couldn't remember falling asleep.
Lizzy wasn't up yet, so I decided to get some good coffee to drink while doing devotions and journaling. I walked to a coffee place that was both farther, and more expensive than anticipated, but soooooo worth it! Sipping good coffee and walking around downtown (that reminded me so much of California it was uncanny) I had a great morning.
We packed up and decided to take another lazy morning, neither of us looking forward to backtracking to the post office. It wasn't that bad though. Really, it was a great ride across the bay. The water was beautiful, the road had a decent shoulder, and we didn't really have that far to go. When we got to the post office, I was disappointed but not surprised to find that the package from Aunt Jenny hadn't made it. We went to the air-conditioned grocery store across the street and I moped around a bit and made a quick trip to Tuesday Morning next door (mostly because my roommate who is from Texas and has impeccable taste in home furnishings swears by it.)
We rode out, following the beach, trying not to die in the 100 degree heat. I got the joy of calling my sister-friend Mary and we got a good laugh at how she was behind a McDonald's using free wifi to Internet call me, while I was biking along the beach, thousands of miles from her. Technology.
We spotted a Target and sped toward it knowing the caliber of air-conditioning inside its metal slab walls. Even riding past the sliding doors we could feel the cool air rushing out to greet us. In we went for a good, long loiter, disguised as a shopping trip.
When we left Target, I didn't realize that I left my sunglasses and my headphones behind. I think we have all heard this story before. Sigh. We made it to another beach and went swimming. I kind of laughed at the silliness of the resorts on either side of the 100 foot strip of public beach. They had placed "private beach, no entry" signs in the sand. I had wished that I'd remembered to buy goggles at the store since this beach had an alleged coral reef offshore, but it was all good. We swam around for a while and thoroughly enjoyed ourselves.
We left from there back into Alabama along a straight, flat strip of highway that followed the beach and was strewn with high-end and expensive resorts. The sun was setting and the effect made us feel like we were in a quiet sort of Vegas. We made a stop at a Winn Dixie to get something for dinner and to try and figure out where we were going to sleep for the night. Only to find out that the Winn Dixie deli sells their old hot foods for 50 cents a pound, so we loaded up on starchy, less than fresh goodness and ate it up on the curb.
I found a church on Google that was about two miles away so we flipped on our lights–including the fun and flashy wheel lights courtesy of Donna–and peddled off. The church was not a traditional church since we were in resort land, but was a swanky kind of multi-level place with beach access. We left our bikes under the stairwell and tried to sleep on the beach. Tried and tried and tried. It was the worst night I'd tried to sleep since the West Yellowstone fiasco.
It happened to be a full moon, and we were right next to a fancy, party style resort. Tourists kept walking the beach in front of where we were trying to sleep, catching sand crabs and screaming and holding hands and being beach bums. Worse than that was the combination of sticky, salty, itchy sand, and sand fleas. I could feel them crawling all over me. It was awful. I was also a bit paranoid because I thought we were going to get kicked out of there. When your not trying to sleep in such a situation, it is easy to say, "so what if someone kicks you out, then you just go elsewhere." But for some reason it keeps me up thinking that someone might just come bust us. I also had tummy grumbly from the old deli meal I ate for dinner. Eventually, I stumbled over to an abandoned floaty thing and curled up on it, in the sand, under a beach church canopy, trying to hide in the shade from the bright moon, and fell into an uneasy sleep.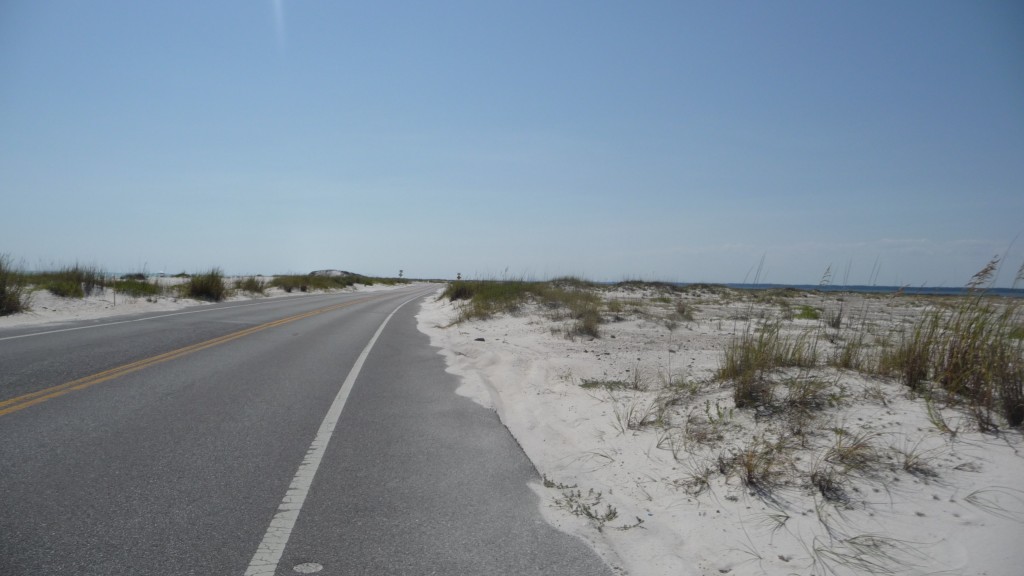 It was nice being up early in the morning even if my eyes were burning from lack of sleep. We rode out through some national seashore and a bird sanctuary state park. Both were wonderful. Though the moon does not have water or grass, I imagine that if the moon had a beach, it would be like that beach. We found a McDonalds and had a good loiter / attempted recovery from the previous night. I was surprised to find that my Uncle Dean had given me an audio book credit and downloaded the 20 hour, first volume of James McPhereson's Battle Cry of Freedom (I tried to find a good copy of Don Quixote at first but ended up with McPhereson). Thanks again Kim clan!
From there, we made for the Dauphin Island ferry, traveling through a national mouse sanctuary and historic Ft. Morgan. The ferry only cost 5 dollars, much less than I was expecting. A woman at the post office had given me money for lunch, we put it on the ferry instead. We made it to Dauphin Island in one piece, 30 minutes later. I was able to book a warmshowers host last minute, so we were excited about the possibility of sleep that night. It was that which motivated us across Dauphin. Unfortunately, I was lost in the music of Beautiful Eulogy and distracted by the sight of a BBQ building that was on fire and missed our turn to the bridge off the island. So, we ended up riding WAY out of the way. I was not happy about that.
After an about turn and some internal battling (I was very emotionally unstable due to my overwhelming exhaustion), I found the turn we'd missed and headed to the mainland. It was so incredibly hot. After a good 20 miles we stopped at a McDonalds to bask in the air-conditioning and have an impromptu Skype call with my dog (and more importantly my momma). I double checked coordinates to our hosts, and we headed out again. Of course, I missed some turns increasing my count of 40 mistake miles to about 50. (I don't know that Lizzie knew that) We made it to our hosts, Kim and Ric and their children Lydia, Lilly, and Liam, well before dark and were met with a buzz of excitement and dog kisses. It was lovely. Kim and Ric are both educators, and true to the trend of teachers we have met along the way, were wonderful and interesting folks. Kim and Ric have hosted over a hundred cyclotourists through warmshowers, something I found remarkable.
We got to take showers, and do laundry. Both were much needed after long travels in the heat and after swimming in the same clothes that we'd been sleeping and cycling in for days. Not good. My shorts were stiff with salt. Not long after, Kim received a phone call from a friend whose husband was involved in a car accident on the interstate not far from the Jordan's home. Lizzie stayed with the kiddos while I went with Kim to check on her friend's husband and children who were involved in the accident.
We drove West into Mississippi, and then turned around the other direction until we found them. Fortunately, no one was seriously hurt. Another car had run the family off the road and they had hit a ditch hard enough to deploy the airbags. After the kiddos were transferred to their mom's car, Kim made sure there was nothing else we could do, and we drove back to the house. By that time, Ric had made it home, thinking for a short while that it was Kim and their kids who were in the accident. When we got to the house, Lizzie was in the living room with the kiddos watching terrible Katy Perry music videos. Gag. It was not her choice.
We were supposed to sleep outside that night, but Ric said that if it got too terribly buggy that I could come inside and crash on the couch. I tried to hammock it, but between the heat, the bugs, the sound of the speedway down the street, the neighbor's dog that barked at me every time I moved, and the dog and kitten that insisted on joining me in the hammock, I could not sleep. Since I hadn't slept the night before either, I decided that awkward though it might be, I would stumble into the house at 12:30 and crash the couch. It was a good decision.
When I woke up the next morning, I looked outside and I didn't see Lizzy, the tent, or her bike. I was a little bit concerned, but when I finally got the gumption to go out into the heat and look for her, I found her sitting in the shade behind the house eating munchie mix. I hadn't really thought to invite her into the air conditioning the night before—maybe that was a little selfish. Poor lizzbit didn't realize she could come into the house.
Kim and Ric and all the kids were getting ready for church but managed to make us a great breakfast and some really delicious coffee. We were invited to go to church, but chose to hit the road at the heat was steadily rising. We had a couple cups more coffee, and then were off.
We made it into Mississippi and then to a town large enough to host—you guessed it—a McDonald's. We needed to cool off and catch up on some admin. responsibilities. Trying to beat the heat, we decided to leave with only just enough light to get to the church we'd found to stay at, but we kind of took our time packing up.
When we left, I started Battle Cry of Freedom and was deeply engrossed in a summary of the socioeconomic fabric of mid-19th century America when a large and intimidating man pulled over and indicated that he wanted to talk. When I saw Lizzie had pulled over, I turned around to chat too. His name was Woody, and he was extremely nice, politely interested in what we were doing, and insistent that he give us some cash for the road. We explained that we didn't need money and gave him some Watsi information. After making totally sure we weren't in need of anything, he prayed over us and warned us not to pick up any snakes that we find in the area. I assured him that I wouldn't.
We rode off into the buggy evening, over a swampy river area (still no gators) and eventually found a church with perfect sneaky camping possibilities. A quick supper of Margret Holmes' Hoppin' John and frozen veggies later, we each were ready for bed. It has been getting darker much earlier now, so I had plenty of time to set up the tent that night. I also had plenty of time to use the emergency Fabreeze mom and Lillian had sent me on every inch of the tent and my sleeping mat as it was beginning to smell like a combination of sweaty feet and mozzarella cheese. I don't know why, but every time I smelled my mat I was reminded of how my mom used to snack on cheese sticks in the car. She would leave the cheese sticks on the dash until they were oozy before eating them and it used to thoroughly gross me out when I was a kid.
In the morning, we packed up and headed out—noting that the sunrise was behind us, not ahead of us as it has been for the past 3.5 months! We stopped at a little gas station for the morning routine and Lizzie found some ducks to feed. It started out as a good day, and it has continued to be a good one. Mississipians are kindly folks and have some great boiled peanuts. Even so, we're looking forward to that Luisiana line…then Arkansas, Kansas, Oklahoma, Texas, New Mexico, Colorado, Utah, Arizona, Navada, California….. and OREGON! (that litst's a gettn' shorter)
---